Garden Centre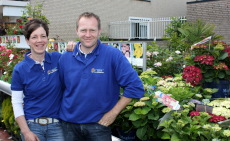 Visit our garden centre Nieuw Hanenburg in The Hague. Where we're passionate about plants and our friendly and knowledgeable staff are happy to give you advice about your garden and indoor plants!
Our garden centre plant collection
In our small but favourable garden centre you can find all the basic needs for your garden, such as outdoor plants, pots, potting soil and gardening tools. Looking for some nice outdoor plants to flourish your garden? Our collection varies depending on the season, though we always have the freshest flowers and most up to date seasonal plants available. Outdoor plants can be sorted into two groups: annual plants and perennial plants. Annuals are plants such as geraniums, petunias and begonias and also referred to as plants that last one year. Perennials, on the other hand, are plants that persist for many growing seasons. Generally, the top portion of the perennial plant dies back each winter and regrows the following spring. It is therefore also advisable to combine annuals and perennials!
House plants for home decoration
We have a large range of house plants in our garden centre like Orchids, Cactii, Amaryllis and many more! Besides plants, we have a wide range of decorative home products and a flower shop. Decorate your house with a beautiful hand-tied bouquet, some lovely scented candles or a nice new green or colourful plant to create a pleasant atmosphere at home! We have many options and are sure we have everything you need, whatever this might be.
Do you have any questions in regards to taking care of your house or outdoor plants? Do you need advice when it comes to the design of your garden? Don't hesitate to call or visit us. We're looking forward to seeing you soon at City Garden Centre Nieuw Hanenburg!
Tuincentrum Nieuw Hanenburg
Hanenburglaan 266
2565 HC Den Haag